ART HOTEL COMMERCIANTI: A HISTORY WAITING TO BE DISCOVERED
Hotel Nachrichten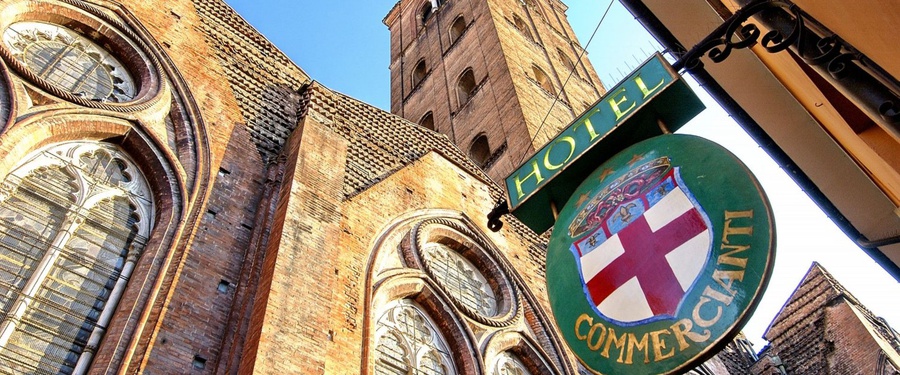 The Art Hotel Commercianti is a historically important building that dates to the Middle Ages and, even after numerous renovations, it still shows testimonies of its past and is the protagonist of stories that deserve to be told. Inside our building you will be able to dive into the past and immerse yourselves in its distant reality, whose traces are still being preserved to this day. Imagine finding yourselves in the 11 th century, in the Middle Ages, during the conflicts between the Guelphs and the Ghibellines; the structure we find ourselves in was built to serve the purpose of a tower house and to be used as a home by the noble families at the time. Then, in the year 1116, after the rise of the municipal liberties, the authorities of the city elected the building we are in today as the Curia of Sancti Ambrosii or Bologna's city hall, where some of the most important decisions regarding the ruling of the city were taken and it continued to be so for almost a hundred years.

Did you know that Bologna was also one of the most important headquarters of the Order of the Knights Templar? According to historical data, in 1161 the Templar Knights settled in Strada Maggiore, later becoming the owners of a property in the same street as our hotel. You will be able to get a taste of that past, in which, between conflicts and religious battles, the building was used as a lodge by the knights. But that's not all! You are currently staying in the first documented headquarters of the Art Company of the ''Brentatori'', wine connoisseurs and pivotal figures in Bologna during the Middle Ages; they are named after the ''Brenta'', the designated container they used to carry wine.
The members of this confraternity had a fundamental role for Bologna because they would rush to put out fires with their Brente full of water, alerted by the chime of the Asinelli Tower's bell. Inside our hotel, you will be able to admire some of the original wooden beams which display the marks of an old fire and imagine that the Brentatori, who intervened just in time, were able to save our building.
Rückkehr